Get MESSY with us Friday, November 24 from 10AM until 1PM.
We're exploring "Mountains in the Bible" with fun & inter-active activities and creative worship. Afterwards, we're sitting down together for lunch – Chomp!

Everyone is welcome!

Let us know you're coming by e-mailing the church at newcastleunitedchurch@bellnet.ca
Messy Church  Sunday, June 11 at 10:30AM. The theme was "The Trinity".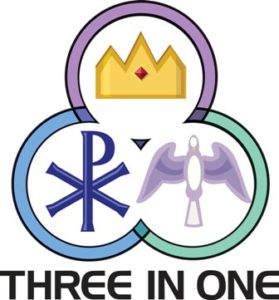 "THE GREAT SURPRISE"
held THURSDAY, MARCH 16
MESSY CHURCH on Family Day, Monday, February 20, 2017 from 10AM-1PM. The theme was "Jesus is found in the Temple". 
"Chill" – we heard the story in Luke 2: 41-52.
"Create!" – we made treasure hearts, had a hunt for story pictures then put them together in the story's sequence, made scrolls from parchment paper and used a bamboo stylus or a pen to write down a question to God, we measured our height on a grow chart and drew pictures of things that grow, we talked about stages in life and the years it takes to grow, we watched as 'instant grow critters' got bigger before our eyes, made chocolate-covered strawberries (because they're heart-shaped), used emotion stickers to add faces to Mary, Joseph & Jesus showing how we think they felt about being lost then found
"Celebrate" – we went into the sanctuary to talk about the story, have an inter-active call to worship, talked about our questions to God that we wrote on our scrolls.
"Chomp!" – we sang a fun grace then enjoyed make-your-own nachos and had our chocolate covered strawberries for dessert.
You gotta join us at our next Messy Church – don't miss out on this fun, fresh approach to church.
So – what is it?
Messy Church is an all-age fresh expression of church that offers counter-cultural transformation of our lives through individuals and families coming together to be, to make, to eat and to celebrate God.
Messy Church is:
A form of church for children and adults that involves creativity, celebration and hospitality.
It's primarily for people who don't already belong to another form of church.
It typically includes a welcome, a long creative time to explore the biblical theme through getting messy; a short celebration time involving story, prayer, song, games and similar; and a sit-down meal together at tables. All elements are for people of all ages – adults and children.
It's all-age.
It's fun.
It's a church for people at all stages of their faith journey and of any age.
It models and promotes good ways of growing as a family: a nuclear family, an extended family, and a global and local church family.
Its aim is to introduce Jesus, to give an opportunity to encounter him and to grow closer to him.
Messy Church is resourced, supported and enabled by BRF, The Bible Reading Fellowship.
Most Messy Churches meet once a month, although a few meet more frequently or more occasionally.
Sound like something you and your family would like to try? e-Mail us at newcastleunitedchurch@bellnet.ca
Watch for our ad in the March 2016 Newcastle Village Voice
www.messychurch.org.uk
www.messychurch.ca
Check our gallery for pictures or www.facebook.com/NUC.youngpeople