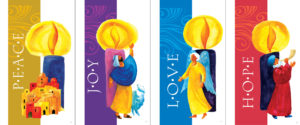 ADVENT & CHRISTMAS SCHEDULE
Sunday, December 10 – Advent 2 – regular morning service
Sunday, December 17 – Advent 3 – Choir Cantata "Sing Joy to the World!" during regular morning service
Sunday, December 24 – Advent 4 – regular morning service
Sunday, December 24 – Christmas Eve – 7 pm Candlelight service with young people's presentation
Sunday, December 31 – First Sunday of Christmas – regular morning service
Join us for worship at Newcastle United Church Sunday mornings at 10:30 am. You will be warmly welcomed by our morning greeters and the sounds of friendly chatter until the worship service begins. Join our new Minister, Rev. Mary-Jane as together we celebrate our faith with the Word, songs, inspirational messages and sharing time. Musically, we are blessed to have the joyful singing of our choir, under the direction of Joanne McLennan, our gifted Music Director.
Children are welcomed to participate in the opening part of the service during Sharing Time and sometimes in the Call to Worship or scripture readings. They often share what they have learned during their Workshop Rotations with the congregation through skits with our puppets and song.
After Sharing Time, our young people join enthusiastic Faith in Motion & Teen Bible Study teachers with their own inter-active programmes. Nursery care is provided for little ones to age 4 years.
For a copy of our latest order of worship bulletin please click here:
Our sanctuary. Hall is through doors on either side of choir loft.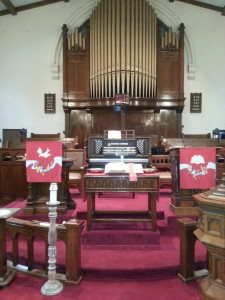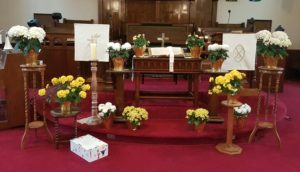 White – Easter, Communion, Christmas, Weddings
Red paraments – Season of Pentecost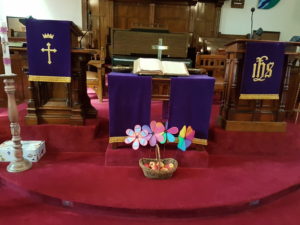 Purple – the season of Lent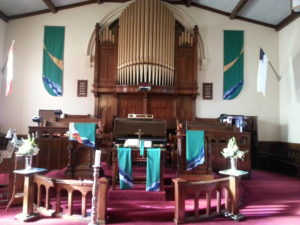 Green – Ordinary Times