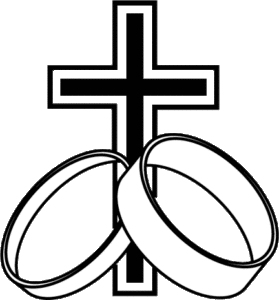 Newcastle United accommodates a small number of weddings each year with a priority on serving the congregation and the local Newcastle community.
The wedding is a Service of Christian Worship within which vows are solemnized. Music and all other elements of the service follow the form and content of Christian worship.  Music is arranged with our organist/pianist Joanne McLennan. Basic arrangements and church-related costs of a wedding are discussed at a first meeting with the minister. Your marriage relationship and the wedding ceremony itself are discussed at further meeting(s).
The sanctuary has a centre aisle and will comfortably accommodate up to 150 people, with a balcony for a number more if needed. The church is wheelchair accessible via a ramp on the south side door.
Useful hint: Here's one (of many) things the wedding-industry books don't tell you: It is necessary to consult with your minister re possible dates and times BEFORE you book your hall or other venue. We understand that halls book up a long way ahead, but until you have confirmed times with your minister/pastor/priest/officiant, – you don't have a wedding date yet!  As well, there are a number of days on which we do not schedule weddings, such as Sundays and other holy days of the Christian year, including Easter weekend.